© All photos in this website belong to RF.


Welcome!
I have broad scientific interests including tectonics and paleomagnetism (MS-U. de Chile), glacial (marine)
geology (PHD-Rice U.), and Geophysics (Post Doc.- UTIG), among other related and unrelated topics
(earthquakes, particle physics, cosmology, cognitive science etc..). In recent years though, I have been
mainly working on: glacial erosion and sedimentation processes at different time/spatial scales and their
influence on tectonics and orogenic processes; glacial evolution in cold and temperate environments;
geologic controls on ice-sheet stability; time dependence of sedimentary processes; fluvial and coastal
source to sink flux of sediments; glacial geomorphology.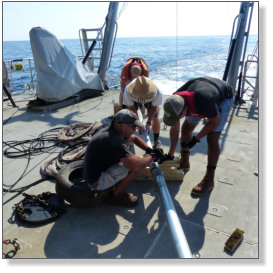 Latest Field Work

Piston Corer System
We own a (mini) piston corer
system built by Mooring
Systems (model PC-600), able to
take sediment cores of up to 6m
in length. The relatively small
size of the corer allows it to be
used in vessels either small or
not usually suited for that
purpose. We have succesfully
used our system on the RV
Manta.
Sediment Cores
Processing
I have built a splitting, a
description and a photo/MS
stations to work with sediment
cores. Cores are cut to lengths
of 1.5 m or less, split into a
sample and an archive half,
then photographed (Pentax K-
50/ 18-135 mm lens for now),
described, and scanned for
magnetic susceptibility
(Bartington MS3/MS2E).
Afterwards, they are ready for
sampling.
Software and other semi-
random stuff
To look at my sediment samples
I use an Amscope binocular
microscope. Seismic data
processing is done with the
Echos suite, visualization is in
Landmark. Bathymetry is
worked out with Caris. Figures
are embellesed with Illustrator
and Photoshop. Matlab is used
for general calculations and
data analisis.
"The noise resembles the roar of heavy, distant surf. Standing on
the stirring ice one can imagine it is disturbed by the breathing and
tossing of a mighty giant below."
Ernest Shackleton